– Peacocks playing hard to get –
by Marije Oude Hengel*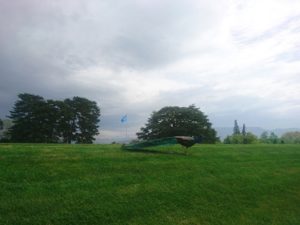 During the weekend, we discovered what the campaigners' world looks like, their strategies, strengths and obstacles (reported by Cherissa,  Sebastiaan, Romain and Alex). Now, it is time for the ICAN campaigners to seduce the states at the first session of the NPT prep-com 2018 and insist on the importance of a world free of nuclear weapons.
As a French speaking delegate, I joined some members from ICAN France and we focused on the French-speaking African countries. I was warmly welcomed and they explained me the ins and outs on how to approach a diplomate. It reminded me of this: Everyone had this experience of a friend helping you to seduce in a bar, party or club and approach an attractive (wo)men at the other side of the room though you are not daring to get in touch with. You would observe her/his behavior, body language, friends, etc. to judge when the right moment would be to start a conversation and get your message across.
The parallel between lobbying and seducing
In some way, the method is the same in the diplomatic world for ICAN campaigners such as our PAX delegation reaching out to states present at the NPT prep-com: elaborate a plan, select the states to be seduced and work towards convincing them that their plan is genuinely attractive: a world free of nuclear weapons. The plan seems simple and the answer to the question "Would you work with me to have a world free of nuclear weapons?" should be simple too (YES!). But the setting of the seduction game isn't a bar but the international political system and the stakes are higher than merely having a good conversation.
Making me and my fellow delegates dive into the lobbying world, the ICAN campaigners became our wing-people for our time in Geneva briefing us on who to approach, what the first sentences could be, who would be a good candidate for us and what our strategy would be. I am already very thankful for them.
Yet, the seduction game isn't over, though the conclusion for today is that the peacock (e.g the states) isn't convinced so far, though present, listening, active and involved to the nuclear armament issue.
* Marije Oude Hengel is a Master student in Political Science at Radboud University and one of the 14 students participating in the PAX Nuclear Crash Course.