People drop their differences to fight for nuclear disarmament – a day full of inspiration
by Alex Velichkov*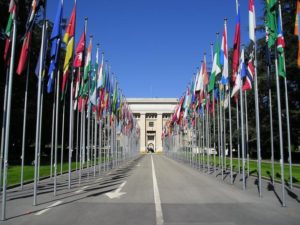 Today we, the PAX Crash Course participants, joined the ICAN campaigners for day one of their meeting in Geneva and for an evening reception at the Musee Ariana given by the city's mayor, Rémy Pagani.
Instead of describing how overwhelming the day was, I will list the things that I will hopefully remember for the rest of my life – the things I learned and the things I felt.
I learned that governments can build for themselves a position from which they can avoid responsibility and claim they have no agency, and that it is civil society's job to expose and break down this cozy place.
I learned that communication can be difficult, but never impossible. Your message can be attacked or distorted, but the fact that you attempt to share your ideas is a message in itself. There is always something that can be done.
I learned that some ideas have such force that people from all over the world drop their differences to fight for them. Nuclear disarmament is such an idea. Today there were people from so many nationalities that it was difficult to find a suitable time for a group phone call given everyone's different time zone. We saw people from various religions and political views joining hands to fight for a common humane cause.
Something a lot larger is going on
But besides these and other useful life lessons, there was another curious thing happening. Somehow, in between the small nametags, the hugs, the coffee and tea, the chairs, the grand halls, the Nobel Prize medal, the sandwiches, and the gardens, there was something a lot larger going on that I think everyone was feeling.
Looking at the flags of the UN building, I felt in a city in which humanity gets together to discuss its prospects for peace and from time to time even does something about it.
I felt in a place where change is happening
Listening to the speeches in the Musee Ariana, I felt in a place where change is happening and spanners are thrown into the works. You know, the weird feeling you get when you imagine what it would have been like to be at the genesis of the League of Nations or at the battle of Waterloo. It's like witnessing – even participating – in one of those moments in history where big decisions need to be made.
At the sessions of the ICAN campaigners, I felt inspired by a community of people who take their work seriously and passionately. Imagine sitting in a room in which every single person has the same clear idea in their head. They share a destination – a world without nuclear weapons – and they walk determinedly towards it step by step each day. Wouldn't you feel inspired?
I believe I speak for the whole PAX student group when I say that yes, we felt inspired. And this was just day one!
* Alex Velichkov is a Master student Philosophy at the University of Amsterdam (UvA) and is one of the 14 participants of the PAX Nuclear Diplomacy Crash Course .