Steeds meer financiële instellingen zeggen nee tegen kernwapens. Dat blijkt uit nieuw onderzoek door het PAX project Don't Bank on the Bomb. Het rapport, Beyond the Bomb, beschrijft 77 banken, pensioenfondsen, verzekeraars en andere financiële instellingen die beleid hebben aangenomen om niet te investeren in kernwapenbedrijven. Dit is een toename van 14 sinds het vorige rapport, uit 2018.
36 instellingen staan in de Hall of Fame, omdat ze alomvattend beleid hebben en kernwapenbedrijven volledig uitsluiten van alle investeringen. 41 andere instellingen hebben wel beleid, maar dit kent één of meer tekortkomingen. Zij staan in de Runners-Up, want alhoewel hun beleid nog niet goed genoeg is, laten zij door het hebben van beleid zien dat ook zij kernwapenbedrijven op z'n minst controversieel vinden en geen normale investering.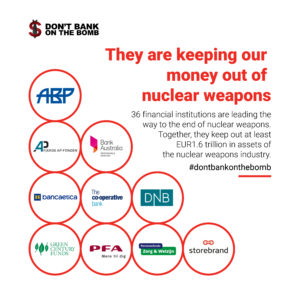 Het aantal financiële instellingen met beleid tegen investeringen in kernwapens blijft toenemen.En ze staan niet alleen. Landen van over de hele wereld zijn samen met maatschappelijke organisaties en betrokken burgers in actie gekomen en hebben in 2017 het VN-Kernwapenverbod aangenomen. Terwijl steeds meer landen dit verdrag tekenen en inwerkingtreding dichterbij komt, wordt het ook steeds meer duidelijk dat er voor kernwapens in de toekomst geen rol is weggelegd.
Financiële instellingen hebben een belangrijke rol in de wereldwijde economie en kunnen daarmee bijdragen aan nucleaire ontwapening. Het aannemen van sterk beleid tegen investeringen in kernwapenproducenten is een prikkel voor zulke bedrijven om te stoppen met de productie van kernwapens en helpt het stigma op kernwapens verder te versterken. Het is bovendien een reflectie van de publieke opinie, die kernwapens in grote meerderheid afwijst.
Het uitsluiten van bedrijven die betrokken zijn bij de productie van controversiële wapens, waaronder kernwapens maar bijvoorbeeld ook andere inhumane en illegale wapens als clustermunitie, landmijnen en chemische wapens, is het nieuwe normaal geworden. Het aantal financiële instellingen met zulk uitsluitingsbeleid dat in Don't Bank on the Bomb is opgenomen, is sinds 2014 toegenomen van 35 tot 77 nu. En dat is nog maar het topje van de ijsberg.
Ook toename in Nederland, maar nog werk te doen voor ING
Er staan 4 nieuwe Nederlandse financiële instellingen in het rapport, allemaal in de Hall of Fame. ABP, APG, bpfBOUW en SPW hebben na de aanname van het VN-Kernwapenverbod besloten voortaan alle kernwapenbedrijven uit te sluiten en hebben inmiddels ook alle investeringen verkocht. Dit toont aan dat het VN-Kernwapenvebod nu al impact heeft. Sommige Nederlandse financiële instellingen hebben echter nog werk te doen: ING bijvoorbeeld sluit vooralsnog kernwapenbedrijven uit NAVO landen niet uit. Wil je ons helpen hier wat aan te doen? Kijk dan hier! 
[button size=medium style=less_round color=red align=none url=www.dontbankonthebomb.com]Kijk hier voor meer informatie over het rapport[/button]