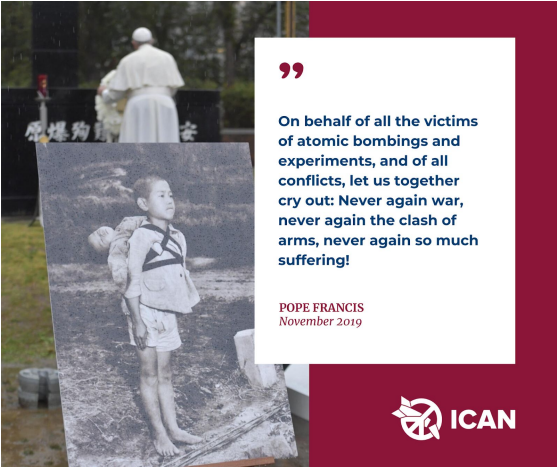 Religious communities play an important role in the global aim for a world without nuclear weapons. Pope Francis, for instance, is for an outspoken supporter of the Treaty on the Prohibition of Nuclear Weapons and the Holy See was one of the first states to sign and ratify this important treaty.
On this web page you can find suggestions, information and materials your religious community in order to pay attention to this important topic in services and/to join the campaign against nuclear weapons.
Materials
Pax Christi Northern California – Prayer for Disarmament 75 years Hiroshima and Nagasaki
ICAN made for the 75th Anniversary of the atomic bombing of Hiroshima and Nagasaki an exhibition. The exhibition contains of 14 panels and is in English. You can use this exhibition to organize an exhibition in your church, mosque, synagogue, temple or other place of prayer. You can download the exhibition here.
Information
ICAN briefing note, December 2019 – The Catholic Church and the 2017 Treaty on the Prohibition of Nuclear Weapons
News