Nagasaki, 9 augustus 1945
Gisteren verlieten we Japan en vlogen we terug naar Nederland. Het indringende aan mijn vertrek uit Hiroshima is het besef dat Nagasaki drie dagen later op 9 augustus 1945 eveneens is gebombardeerd met een atoombom. Na het horen van de vele persoonlijke getuigenissen van de atoombom op Hiroshima, vind ik het niet te bevatten dat slechts drie dagen later een andere stad hetzelfde lot trof.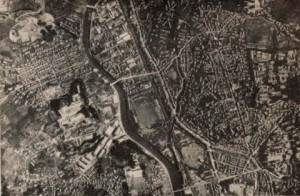 Onbezorgde leven
Masaaki Tanabe, die een project leidt om beelden te reconstrueren van Hiroshima voor de bom, verklaart: "There are things that just cannot be recreated even with the most advanced computer graphics technology." (translated from "Hiroshima, Nagasaki, Okinawa seinen-bu ga heiwa samitto"). Het onbezorgde leven van kleine kinderen uit Hiroshima en Nagasaki die de atoombom overleefden, en nu moedig hun verhalen delen met ons, komt nooit meer terug. Zij worden blijvend geplaagd door de helse beelden die ze hebben gezien.
Onvermoeibaar
Ondanks hun trauma's vertellen de overlevenden haast onvermoeibaar over hun oorlogsherinneringen. Door hun getuigenissen kunnen wij nog steeds een glimp opvangen van het absolute kwaad van kernwapens. Wanneer je in Hiroshima of Nagasaki bent geweest, ben je volgens mij niet meer in staat om te zeggen dat de atoombommen op deze steden gerechtvaardigd waren vanwege, om welke reden dan ook.
De inzet van de atoombommen door Amerika laat zien hoe wreed mensen kunnen zijn ten tijde van oorlog. Zoals professor Joseph Rotblat (1908-2005), die als enige wetenschapper bewust en vrijwillig uit het Manhattan Project is gestapt, verklaarde:  "War turns people into mindless beasts. Even scientists who are normally highly logical lose their rationality when a war breaks out. People who detest barbarism start to act in a barbaric way. This is the insanity of war."
Cultuur van vrede
De enige manier om de waanzin van oorlog uit te bannen  is door een cultuur van vrede te bouwen die sterker is zijn dan onze neiging om naar geweld te grijpen als wij ons machteloos voelen. Door mijn reis naar Hiroshima voel ik mij nog meer gesterkt en aangemoedigd om mij voor deze cultuur van vrede in te zetten.