Door Jurre Honkoop*
Bij het binnenlopen van de Palais des Nations gaat er een kinderlijke blijdschap door me heen. Het voorbijlopen van de rij wachtenden bij het complex omdat wij al een badge hebben, gaf een bijna misplaatst gevoel. Het zien van het enorme gouden logo van de Verenigde Naties bij het binnenlopen van de Assemblee Hall, de mensenmassa aanwezig bij de onderhandelingen en de algemene grandeur van de VN maken de glimlach niet minder. Het verdwalen op weg naar de lunch mocht de pret niet drukken. Ik voel me omringd door mensen die "echt iets bereikt hebben" en hoewel ik 21 lentes achter de rug heb, voel ik me eerder een jaar of 6.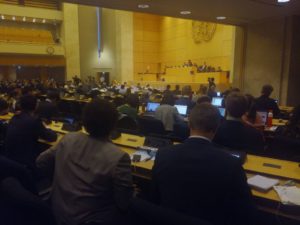 Het is ironisch dat de problematiek waarvoor we in Genève zijn ook wel wat weg heeft van een groep kinderen. Landen gedragen zich tijdens deze Non Proliferatie Verdrag PrepCom soms net als kinderen in een gymles. De Verenigde Staten beschuldigde de DPRK (Noord Korea) vanochtend van "verraad" en de afgevaardigde verwijderde de DPRK hiermee verder van "de coole groep". Tijdens de review conferentie van 2015 konden de kinderen in de klas het niet over eens worden welk spelletje ze wilden spelen; de conferentie mislukte. Het zou grappig zijn om landen zich soms zo kinderachtig te zien gedragen als nucleaire ontwapening niet afhankelijk was van samenwerking tussen de ruziënde blokken.
Wie is de leraar in de klas?
Voor organisaties zoals PAX lijkt er wel ruimte te zijn voor verbetering van het gedrag van het klasje. Imago is belangrijk. Misschien moet PAX optreden als "pester" in de klas? Door landen in een slecht daglicht te zetten en buiten te sluiten zouden de buitengesloten landen misschien hun best doen om bij de populaire kids te horen. Nu denk ik niet dat het vergelijken van PAX met een pester recht doet aan het goede werk dat ze doet. Misschien is de rol van PAX in de klas meer de rol van leraar. Door te proberen leerlingen normen en waarden aan te leren kunnen leerlingen elkaar later gaan corrigeren. De klas zal pesters stoppen. Met het verbodsverdrag voor nucleaire wapens dat vorig jaar is aangenomen lijkt de wijze les van PAX en ICAN aangekomen te zijn bij op zijn minst een deel van de landen. Volgens een Oostenrijkse afgevaardigde van een NGO dit weekend strijden landen zoals Oostenrijk om het braafste jongetje van de klas te zijn en het verbodsverdrag zo snel mogelijk te ratificeren.
Voor progressie is spanning nodig
Hoewel ik vanochtend erg gelukkig was dat ik me even een kind in een snoepwinkel kon voelen toen ik het Palais des Nations binnenliep, stemt het soms kinderlijk gedrag van landen aanwezig in het complex me minder gelukkig. Om te eindigen met een meer hoopvolle noot: zoals onze eigen Susi tijdens haar side-event benoemde: misschien is er spanning nodig voor progressie. Hopelijk kan PAX de leraar zijn die van fouten leermomenten maakt.
* Jurre Honkoop is Bachelor Student Governance, Economics and Development aan Leiden University College en is een van de 14 studenten van de PAX Nuclear Diplomacy Course.