Actie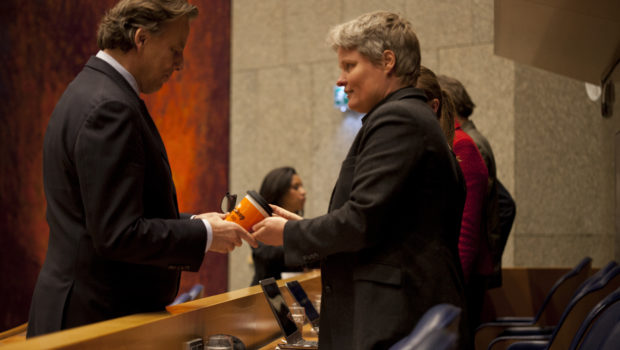 Published on October 21st, 2016 | by PAX No Nukes
0
Kernwapenresolutie: stemt Koenders voor of niet?
Minister Koenders heeft nog altijd niet onthuld of Nederland bij de VN voor onderhandelingen over een kernwapenverbod zal stemmen. De duizenden Nederlanders die hem per e-mail opriepen om vóór te stemmen, ontvingen een ontwijkend antwoord.
Nederland zet zich in voor 'diverse maatregelen' op het gebied van nucleaire ontwapening en 'steunt zo het doel van een kernwapenvrije wereld', schrijft minister Koenders aan de mensen die meedoen aan de actie van PAX. Verder wordt verwezen naar verschillende Kamerstukken. Veel wijzer worden de e-mailers hier niet van. De hamvraag blijft namelijk onbeantwoord: valt onder deze 'diverse maatregelen' ook een stem vóór het baanbrekende VN-voorstel om in 2017 onderhandelingen te starten over een internationaal kernwapenverbod?
De Kamer is vóór
Als het aan de Tweede Kamer ligt, schaart Nederland zich achter de meerderheid van landen die wil onderhandelen. Op 14 oktober riep de Kamer de regering nog op om vóór de resolutie te stemmen. Ook in New York, waar de Algemene Vergadering van de VN wordt gehouden, wordt de druk opgevoerd. Steeds meer landen maken bekend dat zij voor onderhandelingen zullen stemmen. Deze week kondigde de Zweedse Minister van Buitenlandse Zaken Wallström aan dat Zweden tijdens de stemmingen voor de resolutie zal stemmen.
Vraag Koenders de juiste keuze te maken
Tussen 26 oktober en 2 november stemmen alle VN-lidstaten over dit historische voorstel. Vind jij dat Nederland zich moet aansluiten bij de meerderheid die klaar staat om kernwapens te verbieden? Doe dan nu mee met onze actie en vraag Koenders om volgende week bij de VN de juiste keuze te maken: stem vóór de resolutie die oproept om in 2017 te gaan onderhandelen over een internationaal kernwapenverbod.
PAX, ASN Bank en het Nederlandse Rode Kruis, de initiatiefnemers van het burgerinitiatief Teken tegen Kernwapens, stuurden deze week een brief aan minister Koenders met dezelfde oproep.