''Here we have several hundred people today, that showed up ready to fight for a better world! And outside there are millions more!'' Deze woorden sprak Beatrice Fihn, uitvoerend directeur van de International Campaign to Abolish Nuclear Weapons (ICAN), bij de opening van het ICAN Paris Forum. Hiermee gaf zij perfect de sfeer in de zaal weer. Meer dan 300 studenten, activisten, campagnevoerders en andere geïnteresseerden van over de hele wereld waren op deze bijeenkomst afgekomen. Allemaal verschillende mensen, maar met een gemeenschappelijk doel: De wereld beter maken.
Met de neus op de feiten: wat richten kernwapens aan?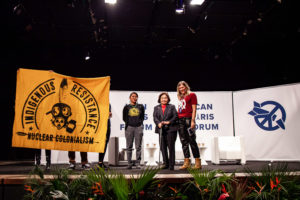 Na de opening van het forum werden de deelnemers gelijk met de neus op de feiten gedrukt: Hiroshima atoombom overlever Setsuko Thurlow en de Amerikaanse indigenous community organizer Leona Morgan vertelden hun indrukwekkende verhalen. Setsuka Thurlow vertelde hoe zij als enige van haar school de atoombom overleefde en hoe zij zich sindsdien inzet om er voor te zorgen dat niemand hetzelfde overkomt. Leona Morgan legde uit hoe haar gemeenschap, een klein plaatsje in de woestijn van New Mexico in de Verenigde Staten, nog steeds te maken heeft met nucleair kolonialisme. In het verleden zijn daar namelijk kerntesten uitgevoerd en er wordt tot de dag van vandaag nog uranium gewonnen. Ze vertelde dat ze actie voert, omdat ''this special mineral [uranium] that came from the Sacred Mountain of my people in New Mexico was used to bomb Hiroshima and continues to be used for war."
Alle info over kernwapens die je nodig hebt
Na deze twee persoonlijke verhalen kregen de deelnemers alle informatie die noodzakelijk is om in actie te komen tegen kernwapens. Zo werd verteld hoeveel kernwapens er anno 2020 nog steeds zijn, wat precies de gevolgen zijn van de inzet van deze wapens en waarom we ze moeten verbannen. Tijdens een van de panels kon je leren hoe je de argumenten van beleidsmakers, militairen en anderen die het bestaan van kernwapens blijven verdedigen kunt tegenwerpen. De kracht van het op een creatieve manier je punt duidelijk maken werd uitgelegd tijdens een panel met onder andere kunstenaars en fotografen. Zo merkte een van de sprekers in dit panel op, dat buitenlands beleid een werkgebied is met weinig creativiteit. Juist voorstanders van kernwapens doen hier hun voordeel mee, omdat dit het onderwerp waaraan ze werken ontmenselijkt.
Meer dan alleen kernwapens..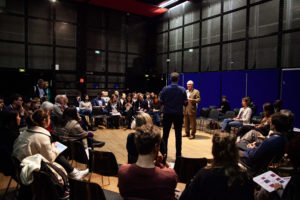 Tijdens het forum werd over meer gesproken dan alleen kernwapens, want campagnevoerders die buiten dit veld werken lopen tegen veel dezelfde problemen en barrières aan. Zo vertelden onder andere campagnevoerders van Greenpace, Black Lives Matter en vakbonden over hoe zij de status quo proberen te doorbreken.
Al met al was het ICAN Paris Forum erg inspirerend en leerzaam. Zoals Beatrice Fihn aan het begin al zei, we zijn niet alleen en er zijn veel mensen die samen met ons de wereld beter willen maken. Het ICAN Paris Forum gaf de deelnemers de inspiratie, kennis en energie om dat ook daadwerkelijk te gaan doen!
Coverfoto: Orel Kichigai | ICAN