De Norwegian People's Aid heeft vorige week de tweede editie van de Nuclear Weapons Ban Monitor gepubliceerd. Deze monitor houdt per land bij wat zij doen om een kernwapenvrije wereld te bereiken.  Het in 2017 door 122 aangenomen VN-kernwapenverbod wordt hierbij als uitgangspunt genomen. Uit de recent gepubliceerd monitor blijkt dat driekwart van alle staten wereldwijd het VN-kernwapenverbod steunt. 
De Nuclear Weapons Ban Monitor maakt per staat een analyse in hoeverre hun beleid en acties overeenkomen met de verboden uit het VN-kernwapenverbod. Het maakt hierbij niet uit of een staat het Verdrag al getekend heeft of niet. De monitor laat zien dat 135 staten het VN-kernwapenverbod steunen. Op het moment dat de monitor uitkwam hadden 32 staten het Verdrag geratificeerd en 48 staten het Verdrag getekend, maar nog niet geratificeerd. Dat de steun voor het Verdrag steeds sterker wordt blijkt onder andere uit het feit dat enkele dagen na het uitkomen van de monitor, Dominica het Verdrag heeft geratificeerd, wat het totaal op 33 staten brengt. Dit laat zien dat het VN-kernwapenverbod gestaag beweegt richting het moment dat 50 staten het Verdrag geratificeerd hebben en het officieel van kracht wordt.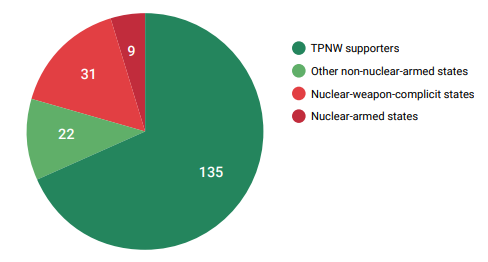 Nederland
Nederland behoort samen met 30 andere, voornamelijk Europese, staten tot de zogenaamde nuclear-weapon-complicit states. Deze groep van 31 staten zijn medeplichtig aan het in stand houden van de nucleaire status quo. Uit de analyse van de monitor blijkt dat Nederland niet voldoet aan de verboden uit het VN-kernwapenverbod om geen assistentie te verlenen aan verboden activiteiten, om geen verboden activiteiten aan te moedigen of hieraan medeplichtig te zijn en om geen stationering van kernwapens toe te staan op haar grondgebied. Aanbevelingen die aan Nederland worden gedaan zijn om in de nationale defensie plannen en veiligheidsbeleid geen rol voor kernwapens meer op te nemen en om het VN-kernwapenverbod te tekenen en te ratificeren en andere staten aan te moedigen het zelfde te doen.
[button size=medium style=less_round color=red align=none url=https://banmonitor.org/files/Nuclear_Weapons_Ban_Monitor_2019.pdf]Download de Nuclear Weapons Ban Monitor[/button]