Geboren in 2000 uit een gelukkige samenkomst van twee vriendenclubs uit Utrecht groeide een maandelijks avondje 80's plaatjes draaien, videobanden knippen en decortjes knutselen voor een paar honderd liefhebbers uit tot het grootste 80's feestje van Nederland!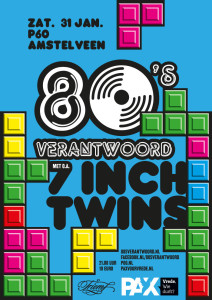 De '7 Inch Twins' gaan je deze avond de lekkerste 80's plaatjes voorschotelen, zodat jij je weer helemaal kan wanen in de jaren 80 (in je passende 80's-outfit natuurlijk)! VJ Clipsync, groot geworden met Villa Achterwerk en Sky Channel, voorziet lachend al die fijne platen van alle pop- en pulpclips, oude films, tv-series en foute commercials, waar de legendarische knulligheid vanaf druipt.
Eindelijk is er ook een oplossing voor al die verzoekjes die je altijd hebt willen doen, maar waarvoor de dj te druk was om naar te luisteren: de verzoekencomputer! Alles wat je hier invoert wordt automatisch op het scherm geprojecteerd! Uiteraard neemt 80's verantwoord ook Pacman en Asteroids voorje mee, want wat zijn de 80's zonder Atari-games? Precies. Als The Cure zonder bos, als George Michael zonder geloof, als Bon Jovi zonder haar: een kale boel.
Let's get ready to rumble…… 'cause you gotta fight, for your right, to party!!!
Pax ze de kernwapens af
'Kernwapens de wereld uit, om te beginnen in Nederland!', dat was in ons land dé vredesboodschap van de jaren tachtig. Mensen gingen massaal de straat op om te demonstreren voor een kernwapenvrije wereld.Vredesbeweging PAX stond aan de wieg van deze demonstraties. Tijdens 80's Verantwoord in P60 is PAX er ook bij. Zet je handtekening voor het burgerinitiatief tegen kernwapens en je krijgt een button om je jaren tachtig outfit compleet te maken. Je kunt ook online tekenen. Doe mee en teken de petitie nu alvast op www.tekentegenkernwapens.nl.
Nog steeds brengt PAX mensen bij elkaar die voor vrede durven te gaan. Iedereen die in vrede gelooft kan iets voor vrede doen: van kleine tot grote activiteiten. Wij geloven dat al die beetjes durf uiteindelijk een wereld dichterbij brengt die een veilige plek is voor alle mensen. Daarom haalt PAX tijdens 80s Verantwoord handtekeningen op tegen kernwapens.
Zie ook p60.nl.
Datum
Zaterdag 31 januari 2015
Tijd
21.00 – 02.00 uur
Locatie
P60
Stadsplein 100a
1181 ZM Amstelveen
Tickets
Voorverkoop: €10,00
(hier bestellen)
Deurverkoop: €11,00