Actie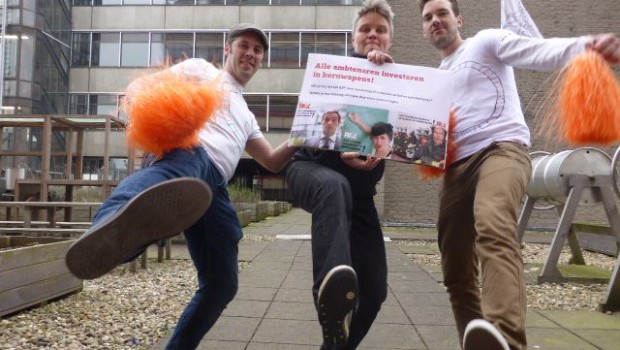 Published on February 23rd, 2016 | by Krista van Velzen
0
10 x ABP actie: Stop met investeren in kernwapens!
PAX vredesactivisten hebben een reeks van tien bijeenkomsten van het ABP voor gepensioneerden aangegrepen om duidelijk te maken dat er geen draagvlak is voor haar investering van bijna 1 miljard euro in kernwapenproducenten. De bijeenkomsten vonden in december vorig jaar en deze maand door het hele land plaats.
Vele gepensioneerden hebben hun steun geuit voor de oproep van PAX om uit deze producenten te stappen. Het ABP zit duidelijk in de maag met de aanwezigheid van de PAX vredesactivisten. Bij de laatste bijeenkomst vandaag in Zwolle werd hen de toegang tot het terrein van het Van der Valk hotel waar de bijeenkomst plaats vond ontzegd. Krista van Velzen, campaigner nucleaire ontwapening bij PAX: 'Het ABP kan kritische mensen wel verwijderen, maar de 64% van de ABP deelnemers die willen dat het fonds stopt met deze investering kun je niet blijven negeren.'  To be continued..